---
Transform your strategic success
StrategyWorks is the leading strategy execution solution which helps mid and large-sized organis
ations to create a single view of their strategy
---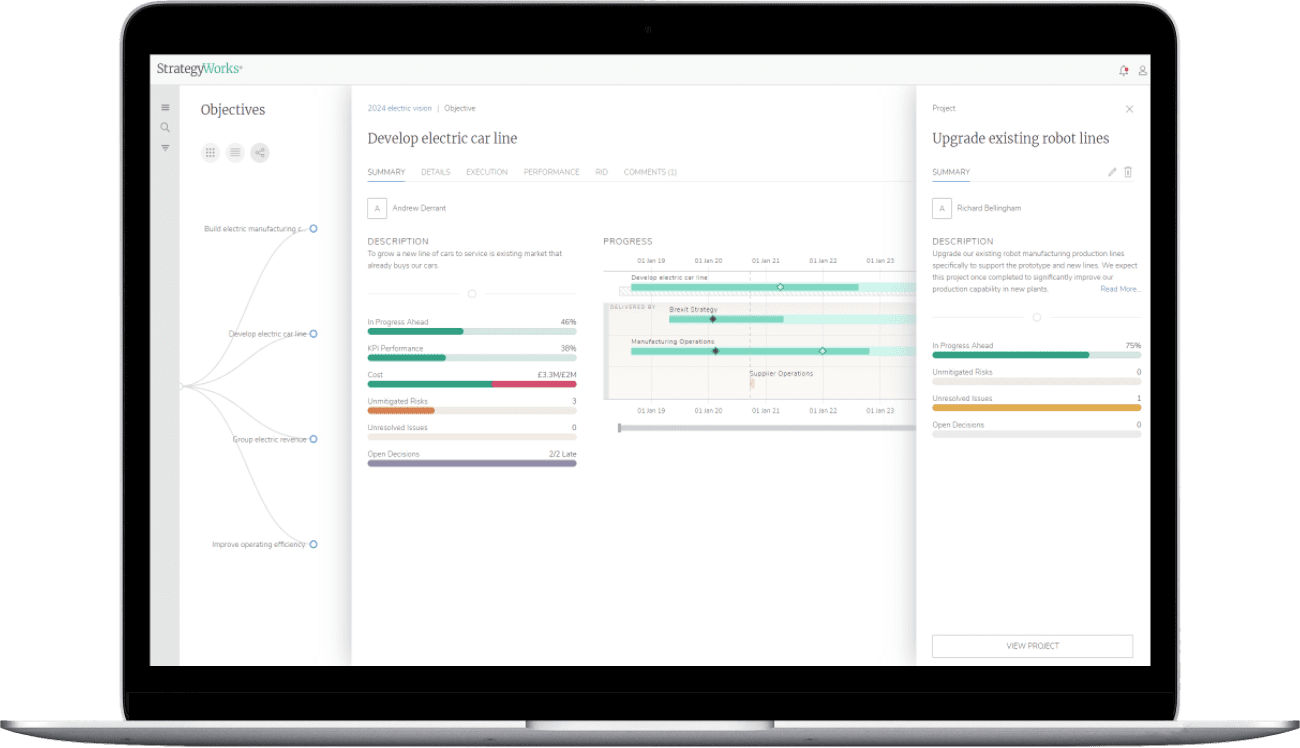 Increase strategic transparency 

Ensure clarity of accountability and ownership (SMR/SMF) 

Demonstrate strategic planning 

Total strategic assurance & confidence 
Increase strategic transparency 

Ensure clarity of accountability and ownership (SMR/SMF) 

Demonstrate strategic planning 

Total strategic assurance & confidence 
Increase strategic transparency 

Ensure clarity of accountability and ownership (SMR/SMF) 

Demonstrate strategic planning 

Total strategic assurance & confidence 
Increase strategic transparency 

Ensure clarity of accountability and ownership (SMR/SMF) 

Demonstrate strategic planning 

Total strategic assurance & confidence 
Align
your objectives to your execution plans for fast, focused delivery and improved outcomes.
I

dentif

y
non-strategic and wasted spend, enabling you to optimise investment on strategic activities.
Track
accountability and ownership throughout delivery, with secure role-based permissions and dashboards.
Drivers of consulting value
StrategyWorks creates 5 streams of consulting firm value
---
Increased strategic consulting sales
---
Through our methodology consulting firms can generate new high margin, high value, data-driven strategic services. We also work with you to create unique services.
---
Repeat technology commission
---
When StrategyWorks is used by your clients, you will receive a commission. The more you sell, the larger the commission.
---
Upskill your team in strategy
---
As a specialist consulting company, we work with your services teams to train your team in how to deliver strategy execution methods. This means more time focussing on high value consulting services.
---
Annuity and valuation increase
---
Perhaps the most powerful benefit is we provide your firm with a technology-driven annuity through ongoing sales. This means consulting firms achieve higher valuation and higher sales multiples.
---
Unique consulting accelerators
---
We work with you to embed your create intellectual property accelerators in to StrategyWorks so you can deliver faster, higher value outcomes to your clients at greater scale.
---
Our ridiculous golden guarantee
We're so confident in the benefits to qualifying partners, that we guarantee that if you follow
our process and method, you will drive more strategic revenue in your consulting firm
within 90 days or we will work with you 1:1 until you do, for no charge.
It's really that simple!
Built by consulting for consulting
StrategyWorks was developed by Shapecast, a London-based specialist transformation and change consulting firm to help us drive strategic consulting with our clients. StrategyWorks supports the consulting process and can be left with clients to enable them to have ongoing success.
We understand consulting and know how to give you the support you need to be successful.
We're so passionate about consulting firms, we will help you to develop new unique, high value services using our platform.
---
We understand developing new services and ramping up data-driven tools can be time consuming.
As part of our onboarding methodology, we have taken the delivery risk away by offering three models.
We propose starting with the Done for you model rapidly moving to DIY when your team are ready.
There is no partner outlay or expenditure required throughout.
---
We lead and guide the set up, technical integration and implementation with your team to learn our methodology and approach
---
Your team lead and we support implementation throughout, particularly in technical areas such as integration.
---
Your team lead and run the whole engagement with our support only when needed and requested
---
Our commitment and passion to make this work are so high, it is understandable to wonder what's in it for us?
The answer is scale. By working with trusted, vetted strategic consulting partners, we get access to
a larger pool of target clients where delivery is provided by partners. This enables us to focus on
delivering unbeatable technology solutions rather than service delivery.
This believe this model is truly, win-win-win for all parties.
Consulting partners get access to uniquely powerful strategy execution solution and a wrapped up
methodology with the ability to embed accelerator IP and deliver consulting value.
Clients get access to world class strategic consulting with the most powerful strategy execution software available.
We get access to a wider pool of clients supported by accredited partners to give us scale.
Watch the partner webinar
to learn more
Register to watch our free, on-demand webinar where you will learn:
What is StrategyWorks

How does the StrategyWorks solution drives 5 consulting value streams

How we support consulting partners

How we eliminate risk from partnership

The StrategyWorks Success guarantee
---